So we are all experiencing Covid19 and it has heavily disrupted our lives like no other time I can remember being alive. Being a musician I've had all my gigs the last 2 months cancelled and I started looking to livestreaming in order to connect with people and to make a little extra money in the process. As a musician that makes a living from performing & teaching I rely on both so I can eat and continue to entertain as well as write my own music. It's definitely an interesting time to be alive, but it's up to us to determine what we focus our attention on. Over the past year it's been one of the toughest years personally for me and I've had to really look within myself to be ok. I express myself through my music mostly and I need to dig deep within in order to write about my experiences because I know that if I'm feeling a certain way about some of my experiences that many others are as well. Life has a way to throw us curve balls and really disrupt the way we see our lives, but it's all just a challenge and a learning experience in order to better ourselves. 
Being a musician I've started to livestream on TWITCH and it's been an interesting experience so far. I've learned a lot in setting up my Twitch account. I even bought a course on how to do that called, "Twitch for Musicians," which definitely fast-tracked my learning for sure! I've had to learn OBS (Open Broadcast Software), which is a FREE software that enables you to livestream to FB, Twitch, Youtube, etc... It's a great software that enables you to get the best audio possible as all those platforms compresses the audio you send to them directly and it allows you to put overlays (text, pic in pic, animations, etc) on top of your video feed like a professional TV Station. I'm also a videographer for over 20 years and even though I picked it OBS very quickly I had to use all my knowledge I've learned over the years in video and computers to do what I needed it to do. 
Also, since everything is online only right now I've had to learn to give lessons online through Zoom as well. Just the other day I figured out how to broadcast from OBS to Zoom so I could get both camera angles (PIP) and the audio signal into Zoom. It's definitely a process to learn new things in order to adjust to the changes, but again it's up to us to find ways we can connect with people and affect the world in a positive way.
I'm starting the writing process again in sorting through what I want to write about and it's not an easy process, but I know I'm the happiest when I'm creating and expressing myself through my music. I'm going to use this blog at least once a week to document this entire process. I will share my experiences with you in order to let you into my world and hopefully to inspire other artists along their own journey in music & life.
I hope you are doing well & staying safe through this interesting time in history. Have a great day and don't forget to smile and spread LOVE with everything you do! :)
CLICK HERE to go to my Twitch Channel as I Livestream every Mon & Wed @ 7:30 PM.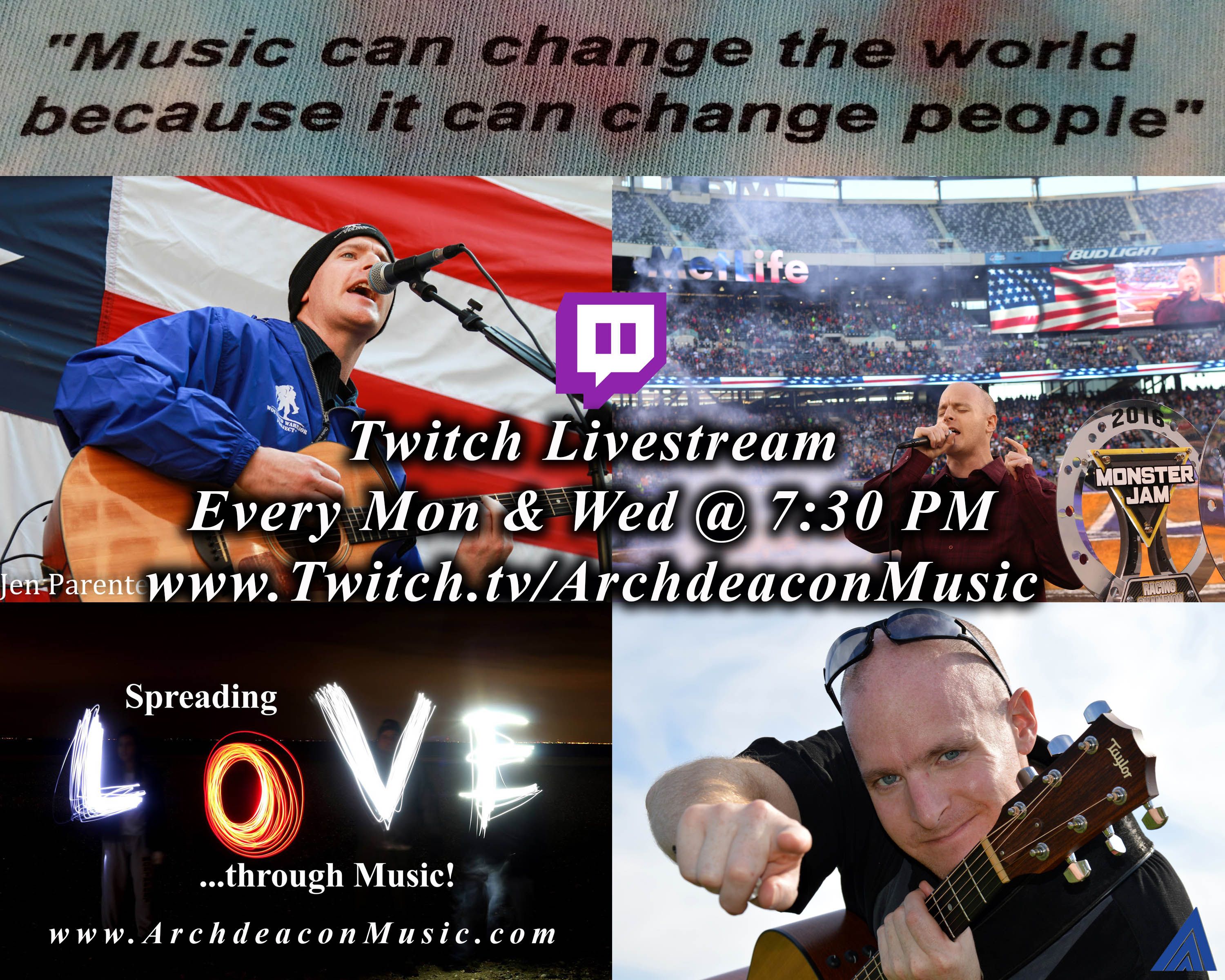 Sincerely, 
Steven Archdeacon